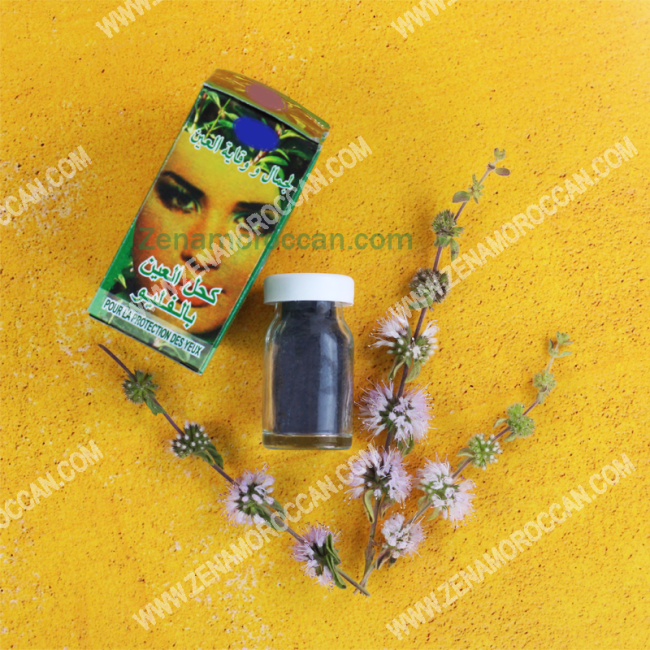 Authentic Moroccan Kohl Eyeliner with Fliou Herb
Authentic Moroccan Kohl Eyeliner with Fliou Herb
Used by women in the deserts of Morocco, our kohl eyeliner is made from the Moroccan Fliou herb, rich in Vitamin A and Vitamin B. Fliou also contains antibiotics that promote the healing of small skin wounds.
Benefits of Moroccan Kohl Eyeliner with Fliou
:
It moisturizes the eye and purifies it from impurities

.

It treats eyelash fallout and sagging eyelids

.

It strengthens the eyelashes, making them healthy and strong

.

It strengthens the eye, tightens its nerves, and preserves its health

.

It gives the eye a glossy, radiant look and enhances vision

.

It eliminates eye germs

.

Plus, it has many other benefits

.
How to Use Moroccan Kohl Eyeliner with Fliou
:
Our Moroccan Kohl Eyeliner from Zaina's range of Moroccan beauty products is easy to use, preferably with an eyeliner applicator.
Note
:
The packaging size is 10 grams

.

Buy now and you will receive a gift with your order from Zaina Store. The product and the gift will be delivered right to your doorstep

.