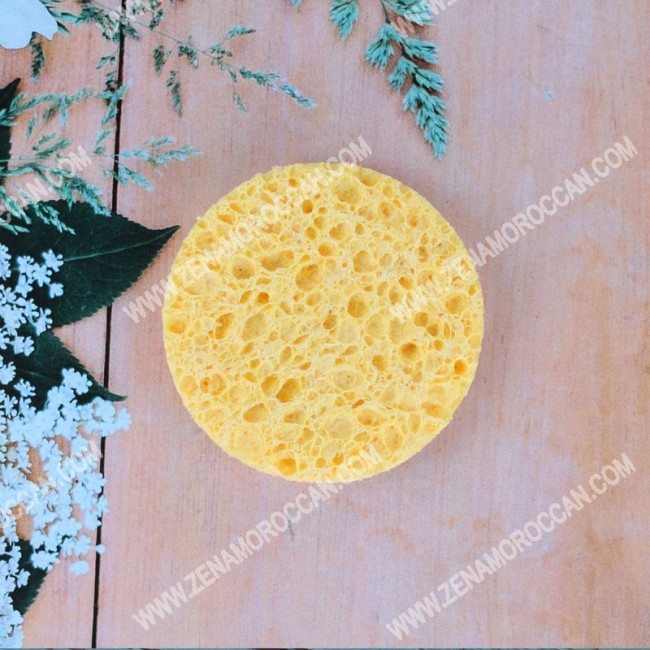 Considered one of the best methods for body exfoliation, this sponge is made from natural fibers that gently soften the skin without causing scratches. Recommended by skin experts for its thick texture that transforms into soft fibers when exposed to water.
Benefits of Face Exfoliating Sponge
- Removes dead skin layers from the face.
- Cleanses, massages, and exfoliates the skin.
- Acts as a face scrubber and exfoliator.
- Eliminates dead cells from the face.
- Removes toxic oils from facial skin.
- Evens and brightens skin tone.
- Treats the problem of ingrown hairs.
- Stimulates blood circulation in facial skin.
- Leaves the skin more radiant.
How to Use the Face Exfoliating Sponge
For Face Exfoliation
Place the sponge in a plastic dish containing warm water mixed with natural rose water. Gently wipe the face with it, then return it to the dish and use it again for scrubbing and exfoliating the face.
For Regular Use
Use it on the facial skin while showering. Rinse with water after each use and let it dry. It dries quickly and thus does not promote bacterial growth.
Note
It is recommended to use a natural scrub, face mask, and natural rose water for whiter skin

.

The package contains two sponges

.

Order now, and you will receive a gift with your order, courtesy of Zeina's store

.

The product + the gift will be delivered right to your doorstep

.