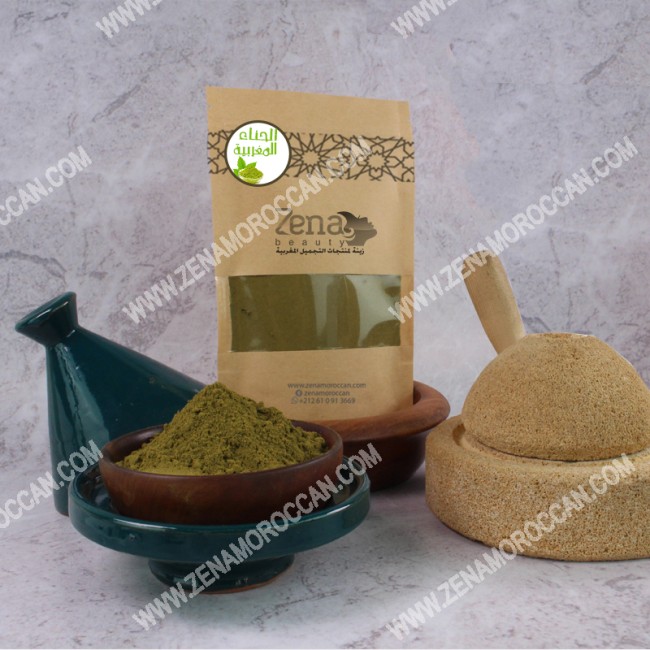 Moroccan henna for the hair
Moroccan henna for the hair
Moroccan henna is traditionally extracted. It is 100% natural and high quality without chemicals. It is harvested and fortified in traditional ways. Scientists have discovered many benefits of henna on hair specifically. These benefits make Moroccan henna the best natural substance that takes care of the beauty, health, and attractiveness of hair.
The benefits of Moroccan henna for hair
Moroccan henna

strengthens the hair from the roots until the limbs, and the hair becomes thicker, stronger and shiny.

The Moroccan henna treats the head's scalp from the crust and inflammation of the scalp.

Strengthens and increases the thickness of thin hair.

Give more shine and intensity to the hair and make it soft and easy to lay off.

Moroccan henna

is a natural remedy that eliminates lice.

Resist hair fall.

Purify scalp hair from microbes, parasites and excess secretions of lipids.

Nourish hair and gain vitality and strength.

Increase hair density.

Resist with the appearance of white hair.
Boil a cup of water and add the contents of the bag of Moroccan henna, mix them until we get a homogeneous dough, then put the dough on the scalp and hair.
Repeat the process once a week and leave the dough on the hair for about 4 to 8 hours.
Note:
The dough should be inserted until the root of the head without forgetting the back of the head, in order to distribute the henna on the entire head.
After that, it is preferable to wash the hair with a natural shampoo.
Possible side effects:
Moroccan henna in the first use will give a few of the itching and the appearance of the crust in the neck of the head. This result from the elimination of dead skin on the scalp of the head.
Note:
Buy now and you will get a

gift

from the

Zena Store

.

The product and gift will arrive at your door.