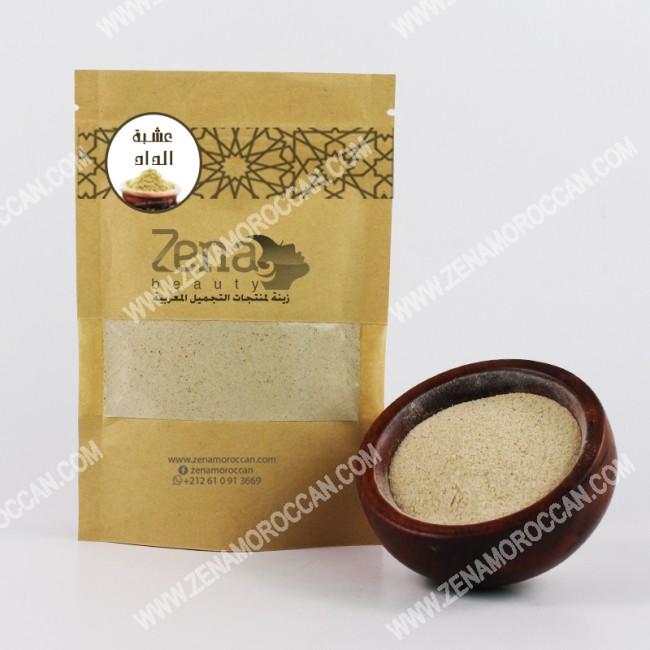 Dad Herb
It is one of the most important Moroccan herbs useful to the body, the herb of Moroccan Dad used by all women of Morocco without exception, and has a wide Arab fame.
The benefits of Dad Herb
Whitening the color of the skin of the body

Unifying the color of the body

complexion

Lightening the color of hard areas (elbows - knees)

Exfoliate the body

in an amazing way "and would be better if used with black soap for peeling"

Remove dead cells from the body and smooth the skin of the body.
How to use the herb
Take a tablespoon of the Moroccan herb, add two tablespoons of the Moroccan municipal soap, one teaspoon of lemon juice and one tablespoon of rose water. Mix it with a steam bath to make the body warm and warm like a sauna. The body or place is to be lightened and brushed for 15 minutes. The body with hot water then comes the role of Moroccan lifa to rub all areas of the body "preferably one helps you".
Note
Herb has great benefits to lighten the body and use it in Moroccan deserts and not placed on the face, eyes or mouth, and away from sensitive places, please pay attention.

It is recommended that the body is then moisturized either with Moroccan Argan oil or with your favorite moisturizing cream.

.The product + gift will arrive at your door