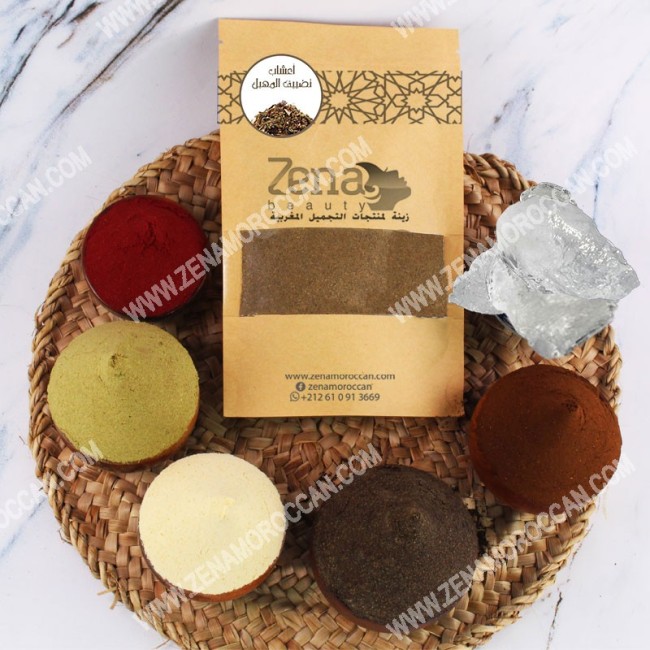 Natural herbs group for vaginal narrowing
NATURAL VAGINAL TIGHTENING HERBAL SET
A woman may face the problem of vaginal expansion at various stages of her life, due to repeated childbirth or due to aging. This can cause her discomfort and disturb the marital relationship. It can also sometimes result in a loss of bladder control. To solve this problem, Zeina store for Moroccan and natural beauty products offers you a herbal set for vaginal tightening made of 100% natural ingredients prepared by Moroccan specialists in a special way and at balanced ratios.
Benefits of the Natural Vaginal Tightening Herbal Set
The Moroccan and natural vaginal tightening herbal set

works for natural tightening of the vagina in a period ranging from a day to a month and a half, depending on the body's response

.

It's a completely natural and fantastic way to achieve the desired results. It's a set of herbs from Moroccan grandmothers of old until now

.

It doesn't make the vagina smell bad as it contains basil, rose, and natural Moroccan herbs

.

Vaginal tightening is the best solution to improve your marital relationship

.

This Moroccan natural method saves you from the methods that have substances

.

A secret from the secrets of Moroccan beauty with traditional natural methods

.

This set works on tightening the vagina quickly and without side effects

.

It works to cleanse the vagina

.

It effectively tightens the uterus muscles

.
How to use the Natural Vaginal Tightening Herbal Set
- A suitable amount of the herbal set is placed with boiled water and left until the water color becomes dark. Then a little of the water of the natural vaginal tightening herbal set (after filtering it) is taken and the vagina area is washed with it, or the herbal water is placed in the bathtub and the woman soaks in it.
- As for the herbs that have been filtered, they are placed in a thin piece of cloth and placed under the underwear, that is, on the vagina area.
Another way to use the Natural Vaginal Tightening Herbal Set
- After buying the natural vaginal tightening herbal set from Zeina store, add it to healthy mineral water, then put it on medium heat and leave it for a quarter of an hour until it boils, and you will notice that the water has been dyed dark brown, then set it aside to cool and put in a clean bottle after filtering the water from the herbs, this water is used as a vaginal douche and the vagina can be sprayed with it a quarter of an hour before the marital meeting.
Note
:
It is recommended to use the above recipes a quarter of an hour before intercourse

.

It is recommended to use mineral water

.

The packaging size is 50 grams, enough for only one time

.

This set is exclusive to Zeina store for Moroccan beauty products

.

Buy now and you will receive a gift with your order, presented by Zena Store

.

The product + gift will reach you at your doorstep