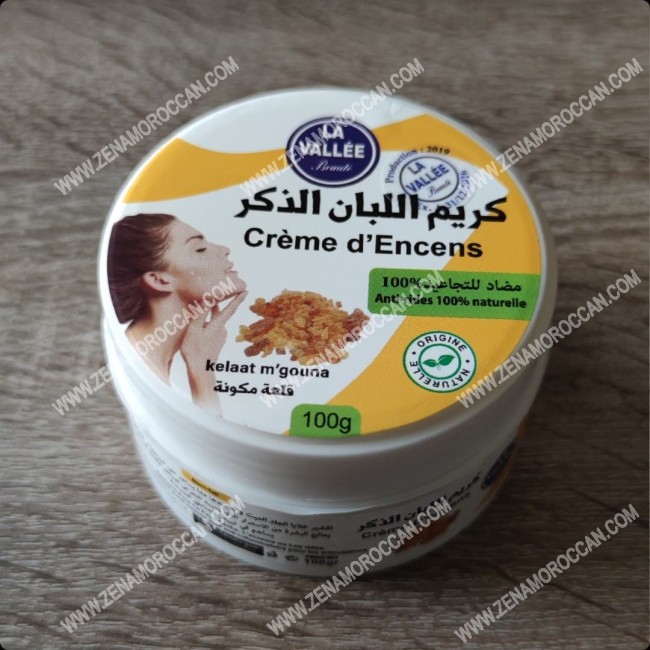 cream Frankincense Dhikr For Skin
cream Frankincense Dhikr For Skin
Male gum is a gum extracted from the heart of the frankincense tree that grows in some areas of the continent of Africa and the Middle East, and contains many therapeutic properties, used in the field of cosmetics for the face, hair and body. Male gum contains natural collagen and many other substances that contribute to the renewal of skin cells and lightening their color. It eliminates skin wrinkles, restores its freshness and helps tighten and reduce pores.
It works to tighten facial sagging and overcome skin wrinkles and fine lines.

Purify the skin of impurities and fungi and reduce the appearance of acne.

It works to fight infections and reduce facial redness and itching.

Purify pores from impurities and secretions to prevent blackheads.

It treats common skin problems such as eczema, unifying skin tone and getting rid of dark spots.

Exfoliation and renewal of dead skin cells, which helps to whiten and lighten them.

Treats the skin from darkening caused by direct exposure to sunlight.

Frankincense cream treats blackness around the mouth and eyes.

Reducing the swelling caused by insect bites and speeding up their recovery.

It is anti-infective, cleans cuts and scrapes, and speeds up their healing, without leaving a scar behind.

Getting rid of scars resulting from surgical operations.
How to use

cream Frankincense Dhikr For Skin
Apply the cream in an appropriate amount to the skin before bedtime, and massage until it is well absorbed by the skin.
Note
Buy now and you will get a gift with your order provided by Zina Store

The product and gift will be delivered right to your door.