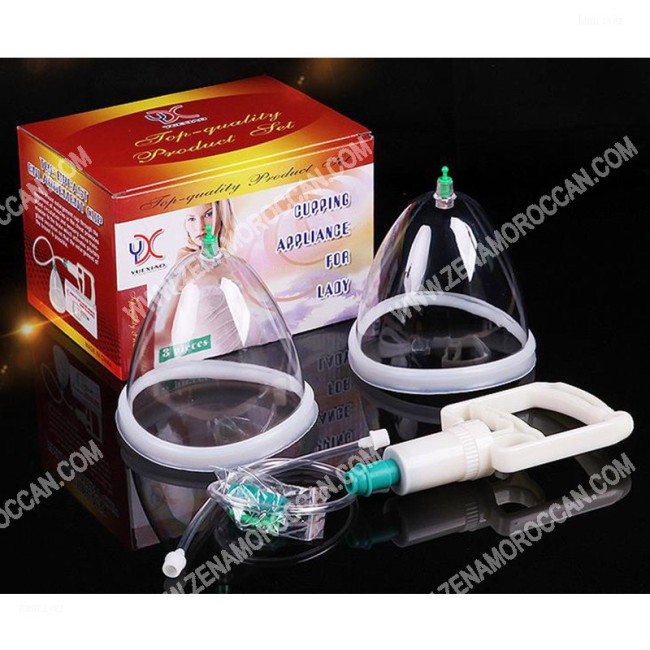 Breast and Buttocks Enlargement Modern Pump
Breast and Buttocks Enlargement Modern Pump
The modern pump works on enlarging certain areas of the body that you choose. Many celebrities and artists stated that they use it to enlarge the chest and buttocks to highlight their femininity. The best thing about Modern Pump over fattening recipes is that the recipes fatten the whole body and can cause unwanted areas to appear, such as belly, while using the pump allows you to control what areas you desired to enlarge, such as the chest, and the buttocks. The modern pump is also distinguished by being 100% healthy and safe because it doesn't contain any harmful chemicals which makes them one of the most successful and safe ways to enlarge and highlight the signs of femininity in the body without any damage or complications.
How to use Breast and Buttocks Enlargement Modern Pump
Place the cup of the pump on the area to be enlarged, then attach the head of the cup to the piece that you will find with the product in the form of a wire, and then start the process of pressing the handle until the area where you want to enlarge starts to rise, then leave it for 10 minutes before taking it off. After that, we advise you to apply a cream to enlarge the buttocks on the area.
This method has to be repeated once a day until you get the result you want, and generally, the result begins to appear after one week of use.
Note
* Buy now and you will get a gift from the Zena Store.
* The product and gift will arrive at your door.