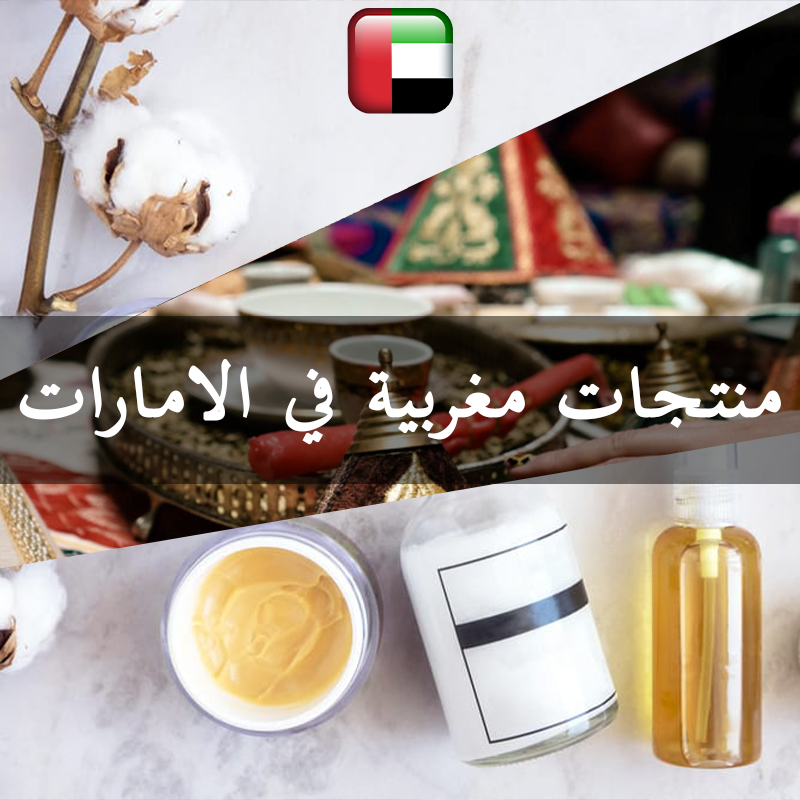 Created Date: 24 Jan
Moroccan beauty products in the UAE
Moroccan beauty products in the UAE

Recently, Moroccan natural cosmetic products have become very popular in the Emirates and the use of Moroccan beauty products made from natural ingredients, so many companies tend to promote their products as "natural, organic, free from industrial ingredients, green" and other words that give the consumer a sense of security towards the products that uses it.
Moroccan products are among the necessary products in the Emirates, as all Moroccan women use them to maintain the beauty of the skin and renew the cells of the skin. Its effect is very strong and its results appear at an imaginary speed. It is expected that the demand for Moroccan natural cosmetic products in the United Arab State of Kuwait will increase significantly, as they are original, royal and luxurious products compared to the price. They are available to all categories of women, whether small, young or old, not only women, even men, as they are natural Moroccan products that are valid for all. genera
What is the importance of Moroccan cosmetic products in the UAE?
The demand for natural cosmetic products is increasing, that is, those that do not include any raw materials in their manufacture. Awareness has begun to increase in consumption in a more attentive way, in application of greater ethics in shopping. Consumers and users of Moroccan natural cosmetic products have been keen to read the ingredients of the materials they use before purchasing. Of consumers in the UAE prefer natural skin care products..and this percentage is significant in the global market for natural cosmetics. These Moroccan products are used in the Emirates, such as natural skin masks and natural corner exfoliants. Certainly, the wonderful benefits of white clay in whitening and Skin softening Don't forget to take one of these Moroccan treasures with you in your luggage.
Some of the natural Moroccan products known in Kuwait, including
Natural herbal mask for the skin
Skin mask is no stranger to us, we use it to rejuvenate our skin, to treat acne and blemishes, and even to relieve stress, and a face mask can be made of clay, gel, or charcoal from these and other ingredients, usually these masks are placed on the face and left for a period of time ranging from a few minutes to hours However, there are some benefits of a face mask at night.

Moroccan silt with natural herbs is extracted from the Atlas Mountains in Morocco, and it has been used in the Moroccan bath since ancient times for cleaning and treatment, as it absorbs fats and dirt because it contains many minerals, in different proportions such as magnesium, iron, calcium, phosphorus, sodium, copper and zinc, and is rich in effective salts and vitamins for skin care, Moroccan silt is used with natural herbs for the skin of the face, hair and body, as shown in French on the lid of the jar.

Argan scrub for face, neck and body

Emirati women take care of themselves in general, but they pay most of their attention to their skin, as they use many Moroccan natural products to take care of them, including: facial peeling, the use of moisturizing creams, and the use of masks. The Argan scrub is characterized by the extract of raw Moroccan argan oil for face, neck and body care. It contains the extract of argan oil, which means great care for your skin and has many benefits that remove dead cells from the skin. Removes dirt, dust and excess fat from the face. Reduces the appearance of wrinkles on the skin. Gives the skin a distinctive look. Reduces the appearance of fine lines on the face.

It is a 100% natural Moroccan clay that is used in the form of a mask, and it has an interesting healing power. It purifies all skin types, especially dry and sensitive skin, and exfoliates the skin, as it provides your skin with smoothness and comfort. The white clay is dried from the quarries, under the sun, and the women manually crush its rocks into small pieces. In this way, the white clay preserves all its properties and the impurities in it are removed. Moroccan clay is extracted from the Atlas Mountains in Morocco, and it has been used in the Moroccan bath since ancient times for cleaning and treatment. It absorbs fats and dirt because it contains many minerals in different proportions such as magnesium, iron, calcium, phosphorus, sodium, copper and zinc. White clay is found either in the form of powder or solid. . It is also sold in many stores in the Emirates, like other Moroccan beauty products in the Emirates and cosmetics, because of its many properties.
Moroccan "baladi soap" is famous for its great benefit in removing dead cells from the skin, lightening the skin and stimulating blood circulation. It also helps to get rid of muscle fatigue if used during the bath as a substance for body massage. And according to what was published by the "Health Line Medical" magazine, Moroccan black soap is rich in antibacterial substances, and it is suitable for all skin types. Although it is extracted from olives, it will not make your skin oily. It may help reduce skin hyperpigmentation if used properly, and its most important feature is that it is anti-fungal.

Moroccan natural beauty products were distinguished by many other benefits, and Moroccan women were able to provide all the cosmetic necessities for women that Saudi women flocked to, until they were able to invade the market and spread the number of demand for them, as you find every time and condition of dry skin, removal of facial impurities, and other things that women care about not in Saudi Arabia Only, but in all countries of the world, there are natural Moroccan products acquired by Saudi women in order to make an integrated Moroccan bath inside their homes without going to expensive beauty centers that do not offer natural or imported products from Morocco. Moisturizing the skin and feeling its softness, which makes the woman feel energetic and energetic, and restore her femininity, self-confidence, and the beauty of her body and hair.
Therefore, Madam, the Zina website offers you to discover the best natural Moroccan cosmetic products, as well as providing an explanation about what suits each skin and each body according to its nature. devoid of any imitation