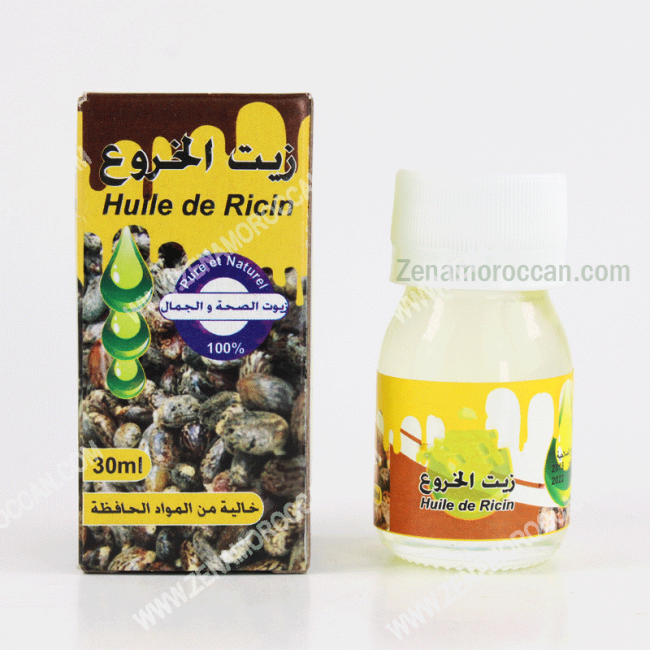 Ricin Oil for hair and skin
Castor Oil for Hair and Skin
We bring you Castor Oil, a natural oil used throughout ages in numerous medicinal and cosmetic products, thanks to its natural antibacterial and anti-inflammatory properties. Extracted from the castor plant, it's renowned for its multitude of benefits for the skin and hair.
Benefits of Castor Oil for Skin
:
- Moisturizes the skin, enhances its smoothness and treats dryness.
- Reduces the appearance of acne.
- Delays the appearance of wrinkles on the face and around the eyes.
- Prevents stretch marks resulting from pregnancy or weight loss.
- Helps to conceal skin blemishes and scars when used regularly.
- Purifies the skin and evens out its tone.
- Removes unwanted dark spots.
- Helps heal inflamed skin resulting from sunburn.
Benefits of Castor Oil for Hair:
- Stimulates and accelerates hair growth.
- Helps nourish the blood circulation of hair follicles.
- Provides vitality and moisture to hair.
- Treats various scalp inflammations.
- Eliminates dandruff and itching.
- Delays the onset of premature greying.
- Treats dry hair and enhances its smoothness.
How to Use Castor Oil

:
For Acne Treatment:
Wash your face with warm water to open up the pores. Then, gently massage your face with castor oil in circular motions. Leave it on your face overnight. In the morning, rinse your face with cold water.
For Hair Care:
Apply a sufficient amount of castor oil on your hand and massage it well into your scalp, then distribute it to the rest of your hair using a comb to ensure the oil reaches all of your hair. Then, it is recommended to cover your hair with a plastic cap for at least two hours, giving the oil enough time to penetrate the scalp and hair follicles. Then, wash your hair well with shampoo.
Note
:
The package size is 30 ml

.

Purchase now and receive a gift with your order, offered by Zeina Store. The product and the gift will be delivered straight to your doorstep

.