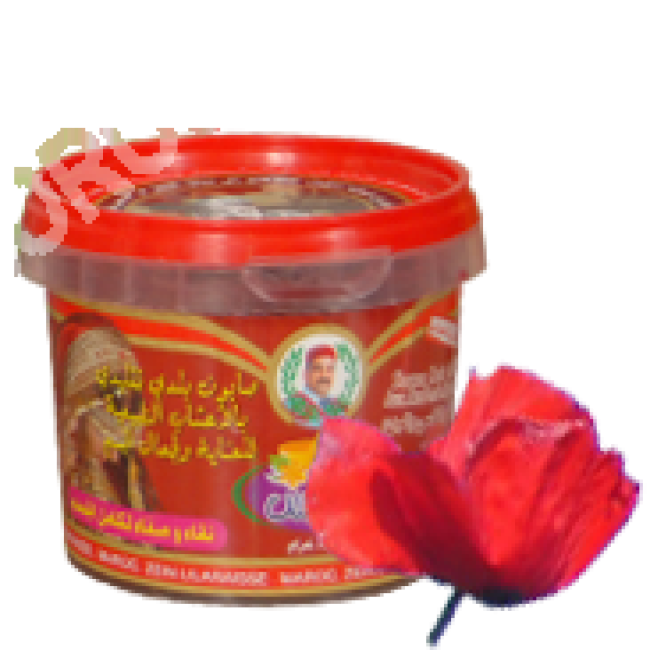 Zain soap with Aker fassi
Moroccan soap with Aker Fassi
It is a Moroccan soap with Aker Fassi extracts. It will make you enjoy the cleanliness and softness like silk, as it works to prevent the smell of sweat and remove the effects of wounds and make your body relaxes, as Moroccan soap rejuvenates the skin and vitality.
Benefits of Moroccan Soap
Removes dead skin from the body
Removes dirt from the body
Calms and relaxes nerves
Removes toxic fats, that fouls bad odors from the body
Prevents the presence of fungi in the body
Treats freckle problems while continuing to use
Deeply purifies skin and brighten dark areas with unifying their color
The skin of the body gains strength and immunity and makes it fresh and shiny
It gives you a good and fragrant scent that is desirable
How to use Moroccan soap
The bathroom in the house has to be well prepared and comfortable with closure of all egress to increase the steam capacity in order to open the pores of the skin, and sit in the bathroom for a period of 10: 15 minutes to warm the skin well and secretion of sweat and open the pores of the skin. Then the body has to be painted with Moroccan black soap for exfoliating, and then came the role of the Moroccan fiber. Preferably one helps you while using the Moroccan fiber to rub the entire body areas of the back, front, face, and neck "lightly on the face and neck" and you will see for yourself how much fat, dirt and dead skin that comes out of the body, then clean the body thoroughly bathing with hot water.
Note :
You can rub your body with drops of pure Moroccan argan oil.

Zain soap with Aker fassi is suitable for all skin types

The size of the package is 140 grams enough for 2: 4 times

Buy now and you will get a

gift

from the Zena Store.

The product and gift will arrive at your door.