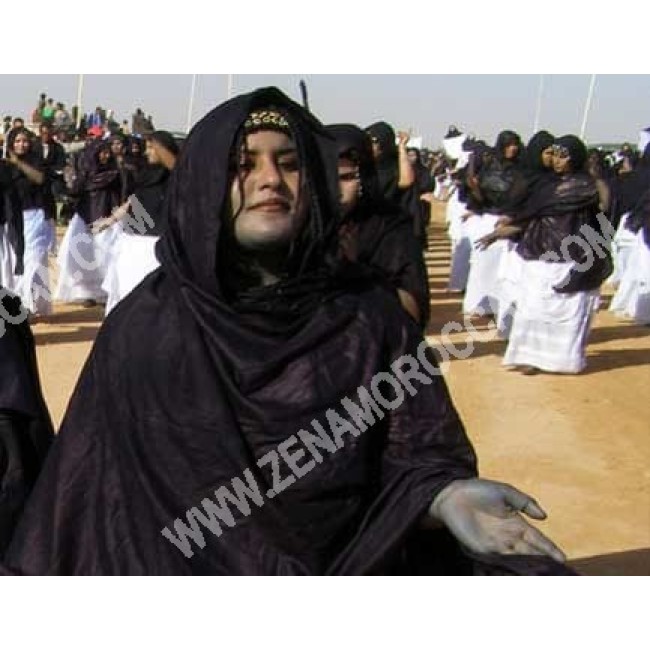 Blue Nila Desert big Melhfa
Blue Nila Desert big Melhfa
The Blue Nile Melhfa is known in the Moroccan desert areas and has benefits in bleaching the body. Women have been using it as a sunscreen since ancient times in the desert regions, which are known for their extremely hot climate. It is a dress that colors the body in a blue color and protects the body from sunlight and opens the body within a short period. The blue indigo wrap is used in addition to its protective role from the sun as a bleaching substance for the body and protecting the skin from pigmentation and effects of grains. In addition to the fact that the use of this substance and washing after it, gives the skin an elegant and aesthetic character, as it contributes to the purity and smoothness of the skin and the preservation of its color, so it performs both aesthetic and lightening roles.
The benefits of

Blue Nila Desert big Melhfa
Real whitening and body whitening

It works to tighten sagging skin.

Lightening and whitening the skin

Get rid of the effects of pigmentation on the skin.

Get rid of the blackness in the body.

It gives the body freshness, radiance and attractive softness.

Deep cleansing of the body from the inside.

Helps permanently get rid of pigmentation and dark spots on the body

How to use the large desert indigo towel to whiten the body 1

Take the large Saharan indigo robe and wear it for 3 days. After this period, the traditional Moroccan hammam is prepared with herbs and black soap. Wash well until you remove it and repeat that several times and you will notice the amazing difference from the first use.
How to use

Blue Nila Desert big Melhfa
Take the large desert indigo robe, which is tailored to the tailor in the form of pajamas that separates and is worn for 3 days and wash well until you remove it and repeat that several times and you will notice the amazing difference from the first use. This is the old method used by most of the Sahrawi women who are about to get married
Note
Zina store advises you to use method 2

The Blue Nile desert quilt is 4 meters long, suitable for making 2 pajamas.

Buy now and you will get a gift from Zeina store