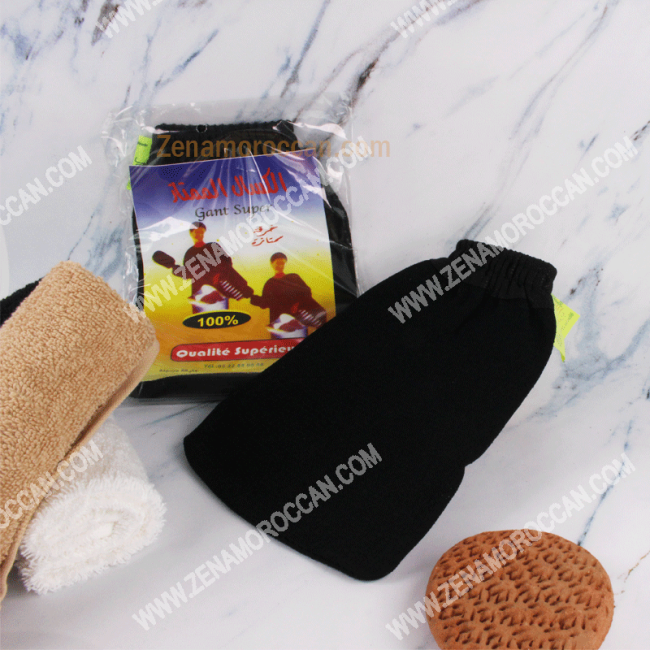 Moroccan kessa | Kessa glove | Kessa Exfoliating Mitt
Moroccan kessa | Kessa glove | Kessa Exfoliating Mitt
Strong anti-aging and skin regeneration support

Unclogs pores and removes dead skin cells to reveal smoother, more radiant, and noticeably younger skin

Stimulates blood and lymphatic circulation

Clarifies complexion and balances skin tone and texture

Promotes skin elasticity and collagen production

Helps eliminate harmful toxins that accumulate on a daily basis

Enhances the absorption of beauty and skincare products to make them more effective
What is Moroccan Kessa Glove?
An authentic Kessa glove used to exfoliate dead skin, debris and oil just like those that have been used in traditional Hammam and Moroccan spas for hundreds of years. Made using high-quality Viscose Crepe fabric, it is super easy to use and safe on your skin.

What it Does

: A Moroccan Kessa work wonders! Forget all those harmful and less effective chemical wraps, pastes and fake muds. Discover the vibrant healthy glow of your skin the natural way. These gloves are far superior to your typical exfoliating gloves, the Kessa glove delivers powerful full body exfoliation to uncover healthier-looking, more radiant, and noticeably younger skin for an immediate smoothness and glow. The glove's unique crepe fabric quickly and gently gets rid of surface layer dead skin, impurities, toxins and excess oil so necessary for healthy vibrant skin. The energetic massage will leave your skin rejuvenated and refreshed. An essential part of our Moroccan skincare routine it essential to exfoliate at least twice per month. These gloves are inexpensive and will last for many, many sessions. A natural and more effective way to exfoliate. For the complete traditional Moroccan Hammam/Spa experience, follow your Kessa glove exfoliation session with our authentic Moroccan Rhassoul Clay Mask, and best-selling 100% Pure Organic Argan Oil.

Material: 100% Viscose Crepe fabric.
It is used moist with soap (preferably black soap) and massaged throughout the body.