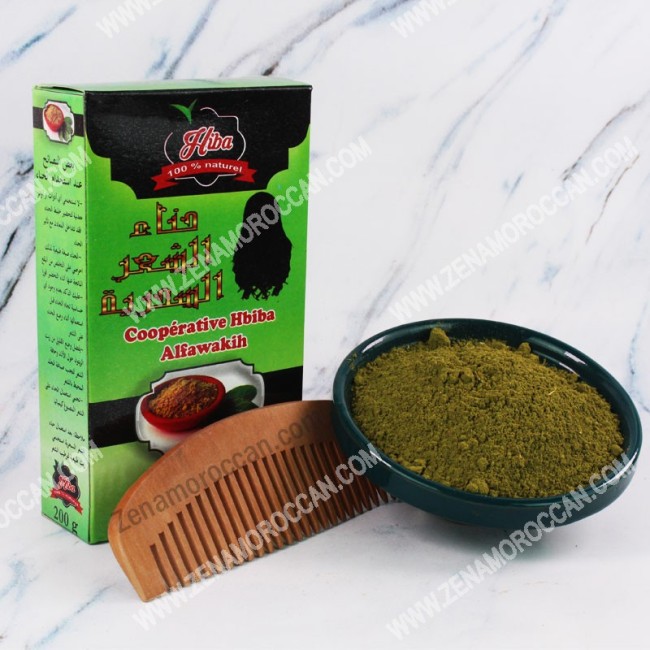 Magical Henna hair
They say that half the beauty of a woman is her hair, and for this reason, madam, we present to you the magical Moroccan hair henna, one of the secrets of the beauty and strength of Moroccan women's hair

Benefits of

Magical Henna hair
Fluffy hair gets rid of parasites, fungi and excess sebum secretions

Nourishes the hair and gives it vitality and strength

Resists hair fall

And moreover, it gives you a wonderful color, madam
Magical Henna hair

tips
It is used with warm water and olive oil (without salt), and if there is no olive oil, it is necessary to add any of the natural oils to the henna paste because henna absorbs moisture and reduces sweat secretion, exposing the hair to dryness, especially for those with dry hair.
When using henna
Do not use any metal tools or utensils to prepare the henna mixture, as metals may interfere with the effect of the henna.

Henna is a natural dye, so be sure to get rid of the resulting stains during preparation immediately.

You must make sure that there is no allergy to henna before using it while applying henna on the hair.

It is preferable to put a little olive oil around the ear and the edge of the hair to avoid dyeing the skin surrounding the hair.

Avoid using henna on chemically dyed hair.
Note
Size 200 grams package

Use once or twice a week

After using the magic hair henna, use a natural oil to moisturize the hair.

Buy now and you will get a gift with your order provided by Zena Store with your order

The order and the gift will come to your door