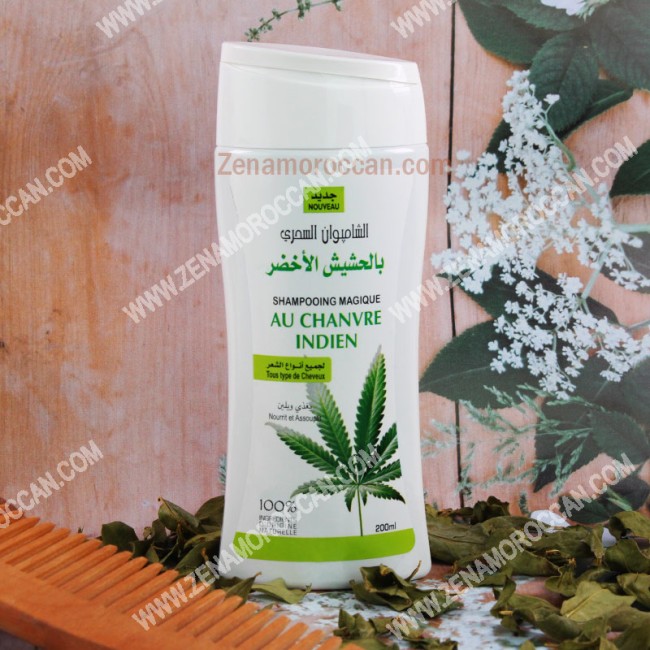 Natural shampoo with green hashish
NATURAL MOROCCAN HEMP SHAMPOO
Hemp oil is one of the mainstays in supporting, beautifying, and addressing hair problems such as repairing damaged hair, stopping hair fall, and promoting hair growth. Zeina's Moroccan beauty products bring you this 100% natural product - a nourishing Moroccan shampoo with hemp oil extract.
Benefits of Moroccan Hemp Shampoo
Hemp shampoo helps to thicken and smooth the hair

Green hemp shampoo contributes to hair lengthening

Hemp shampoo prevents hair fall

Hemp shampoo prevents dandruff formation

Green hemp shampoo is a good stimulant for the scalp

Green hemp shampoo softens dry and coarse hair

Contains all the benefits of green hemp oil

And many other benefits you'll discover with use
How to Use Green Hemp Shampoo
The Moroccan hemp shampoo is as easy to use as other shampoos during showering or hair washing, or before doing a hair oil bath.
Note
:
The Moroccan green hemp shampoo is suitable for all hair types

.

The packaging size is 200 ml

.

Buy now and you will receive a gift with your order, presented by Zena Store

.

The product + gift will reach you at your doorstep